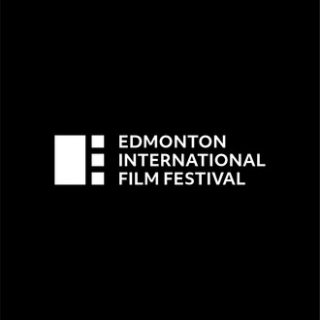 Festival Description:
The Edmonton International Film Festival (EIFF) is a truly unique festival that champions the bold and challenges the status quo. It is equal parts creative, demanding, celebratory, discriminating and, in the end, just a hell of a lot of fun.
SHORT FILMMAKERS... We announce the award-winning films in the LIVE ACTION and ANIMATION categories. As an OSCAR® qualifying festival (for short films), this gives filmmakers enough time to apply, and submit to the Academy of Motion Picture Arts and Sciences (AMPAS) for the Academy Awards.
So who are we? In 2003, our love for film and filmMAKERS -- cinematic storytellers -- led us to the curtains of Edmonton's International Film Festival (or LOCAL HEROES as it was known back then) because 'how hard can it be?' The festival was just shy of 20 years young at that time. All of us here in EIFF land had real gigs -- film production, freelancing, broadcast, journalism, raising goats. All of us still do those things, but very part-time now. This thing, this film festival, is certainly outgrowing its tiny budget. We come from production, so when you tell us your film is a rough cut, temp audio and no color correct, we understand that! And we are passionate. We love films, and the people who MAKE them. So much so, that when you have a film screen here, you become part of our family. And for the record, it's a whole lot harder than we imagined!
Our primary objective is to encourage and support the appreciation of cinema as art. Each autumn, we hoist the curtains on a 10-day cinematic feast that celebrates the power of film. The EIFF menu consists of more than 160 films from 40 countries, ranging from short to feature-length, dramatic to documentary, comedy to gut-wrenching and studio to independent. And we sprinkle it all with a generous dose of filmmaker chats, Q&A's, gala screenings, a local filmmaker spotlight, 'buzzy' films that are travelling the festival circuit, shorts with lunch, parties (of course!) and more.
This gem of a festival from the plains of Alberta gives voice, platform and opportunity to filmmakers at all stages of their creative journey and from all parts of the world. Edmonton is North America's northernmost metropolis and is a proud outlier when it comes to art and culture. 'E-Town' does its own thing. It's home to some of the best festivals anywhere and is a favourite with artists of all stripes. EIFF is one of those events that not only puts Northern Alberta on the map -- it hotly brands it!
WHO ATTENDS? Over the years, we've had the pleasure of hosting: John Waters, Norman Jewison, Cory Bowles, Academy Award© winner Brenda Fricker, Deepa Mehta, Arthur Hiller, Werner Herzog, Paul Gross, Naomi Klein, Avi Lewis, Don McKellar, Albert Maysles, Jon Cryer, Bruce McDonald, Patrick Warburton, Rita Chiarelli, Shea Whigham, Jesse James Miller, Kris Holden-Ried, Zoie Palmer, Academy Award© winner, Luke Matheny... the list goes on! And countless emerging filmmakers, actors, writers and producers.
"I was honoured to be a juror at EIFF and I shared in the excitement of discovering new voices and visions. EIFF is more important than ever to the citizens and City of Edmonton. It is truly an international festival that doesn't forget its local, indigenous and regional roots."
- Carolyn B. (Canada)
At the end of the day, once the curtains close for the final time each year -- EIFF is about the power of film! And how it brings us all together in a way that only ART can. WHAT ARE YOU WAITING FOR? Submit NOW and become part of Alberta's longest running international film festival.

Awards & Prizes:
Film categories – LIVE ACTION and ANIMATION – will be eligible for ACADEMY AWARDS® consideration, without the standard theatrical run, provided the film otherwise complies with the Academy rules. Grand Jury short film award winners eligible to apply to the Academy are notified by OCTOBER 1st -- deadline to submit to AMPAS (The Academy) is currently TBD. This may change as COVID continues to re-shape our lives.
Each year our programmers and jurors acknowledge outstanding, independent films -- feature, short and documentary -- in a variety of categories. Some are tried, true, and expected -- Canadian Feature Film, International Feature, Documentary and Short Film Awards and, of course, Audience Choice awards. Others, not so traditional. If something pops our corn, we'll create an Award for it! Over the years we have doled out EIFF love to... the BIG DADDY AWARD for Family Film, the WEDGIE AWARD for Comedy, EAT MY SHORT AWARD for Tastiest Food Film, The SNOW! MAN AWARD, well, for a film that featured the cold, white stuff!
We don't have vaults of cash to pass on to our award winners, but know that all of our filmmakers – submitters, 'official selections', award-winners, films we weren't able to program – have our endless respect and admiration. It's easy to talk about making a film. You did it! And for that, we heart you.
Rules & Terms:
ENTRY FEES: Submission fees are non-refundable and the fees listed are per entry, in U.S. dollars.
FEE WAIVERS: Aside from ALUMNI Filmmakers, NO FEE WAIVERS will be considered. Don't e-mail us, don't phone us, don't hunt us down on the streets – we've worked very hard to create an affordable submission system. EIFF is a not-for-profit, charitable organization. Much like most filmmakers. We feel you!
CAN I SUBMIT IF MY FILM IS AVAILABLE ONLINE? Your short film is available publicly on Vimeo and/or YouTube? You can still submit it.
ALBERTA FILMMAKER CATEGORY: Submit your film and INCLUDE an Alberta mailing address; or for filmmakers who no longer live here but have Alberta roots (ie. you grew up here, you attended school or shot your film here), please explain your Alberta-ness in your submission cover letter.
YOU'RE an ALBERTA Filmmaker AND an ALUMNI? Rock. Star! We still need you to submit in the ALBERTA category, simply because we are required to track and report our Alberta'ness to select funding organizations. So go ahead and e-mail a request for ALUMNI filmmaker WAIVER Code: submissions@edmontonfilmfest.com.
SUBMIT AS EARLY AS POSSIBLE! Submitting early not only allows time for proper and thoughtful adjudication, but also guarantees you won't miss the final deadline. No late submissions will be considered at all. Seriously!
LENGTH: Submissions may be fiction, documentary, or animation and each category is length-specific.
LANGUAGE: All films with non-English dialogue must have ENGLISH subtitles.
COPYRIGHT: Filmmaker is responsible for securing all copyright clearances and music rights.
WORKS IN PROGRESS: EIFF does not accept trailers or rough assemblies but will accept work-in-progress cuts (picture lock with temp sound, color, etc.). Please be aware that EIFF will not view multiple updates/versions of your film for programming consideration.
INELIGIBLE PROJECTS are:
• Films with a public, theatrical screening in EDMONTON prior to EIFF dates
• Available for PURCHASE/DOWNLOAD in North America
• Available on iTunes and/or Video On Demand (VOD)
SUBMISSION CONTACT: The submitter shall be either a producer, director or authorized agent of the film. All communication will be sent to the person submitting.
CONFIRMATION OF RECEIPT: Once a submission is received, EIFF organizers will change the status of your film in the FilmFreeway online management tool and you will be automatically notified.
PRESS KITS: In keeping with our effort to become a carbon neutral festival, we request that you DO NOT SEND press kits, photo stills, or any other publicity materials. We will request these materials at a later date, once your film is accepted.
SELECTION PROCESS: All submissions are screened and evaluated by EIFF Preview and Selection Committees. Their reports and decisions are final and confidential. Online notification date for Official Selection status is on or before AUGUST 1st.
ATTENDING THE FESTIVAL: EIFF is NOT able to support visiting, "Official Selection" filmmakers with travel and/or accommodation.
RECEIPT OF EXHIBITION FILE/DRIVE: To allow for time to package and/or test and inspect exhibition copies, EIFF must receive your DIGITAL FILE by…
If your film has NOT been received on time, EIFF has the right to revoke acceptance.
PLEASE NOTE: While we make every effort to follow screening times as posted in the festival program guide, EIFF cannot be held accountable for changes to the schedule after festival line-up is announced.
ACCEPTANCE: Submitting a film to the EIFF and accepting an offer for participation will be considered an approval of the film's copyright holder in accordance with the terms of these Regulations.
Once a film has been selected and an invitation to participate at the Edmonton International Film Festival is accepted, we trust that the filmmaker will not withdraw their film from the festival program. But we can't stop you. Please understand that we put a lot of energy and passion into crafting a compelling programme. EIFF reserves the right to withdraw an ACCEPTED entry when circumstance arise that are beyond our control (ie. operating revenues decline suddenly, or a theatre is no longer available, etc.)
I understand and agree that my film entry, if selected for the Festival, may be used for promotional purposes for the EIFF and I grant EIFF organizers approval for:
• A maximum of three (3) PUBLIC screenings of the film at EIFF.
• A public showing of up to a 2-min. maximum of clips from the film for media/promotional purposes.
• Up to two (2) PRIVATE screenings of your film to Media and Jurors.
• Use of film stills in Festival's promotional materials (ie. program guide, promotional materials, website and/or multimedia presentations).
Festival Contact Information:
Contact Information Displayed publicly
Website:
http://www.edmontonfilmfest.com/
Submission requests email:
worldinternationalfilmfestival@gmail.com
Address:
#201, 10816A - 82 Avenue
EDMONTON, Alberta T6E 2B3
Canada
Submission Address:
My festival has the same submission address.
Event Date:
September 21, 2023

to

October 01, 2023